In the last post, I focused on the more casual aspects of uniform dressing.  Here are some additional looks to add to your arsenal.  These will diversify your options and the end-uses for each outfit, as well as amp up the style quotient.
Sometimes, the addition of a blazer and a heel are all you need for a little fashion boost or to simply take you from day to night.  Don't forget that you may need to update your denim silhouettes.  The fit is all about looser, cropped styles.  Mom jeans!
Photo: Mademoiselle Robot,  Pump: M.Gemi Penna, Bag: Chloe Small Drew Crossbody, Blazer: Sandro Valentine Blazer, Loafer: Gucci Brixton Loafer,  Denim: Redone Denim Blazer: J.Crew Blazer, Painted Denim: NSF Denim
I love dresses.  They take the least brainpower (it's a top and bottom in one, duh!) to outfit, and always look put-together, with very minimal effort required.  Knit and sweater dresses are the perfect option for busy days; they will keep you cozy and comfortable.  This style happens to be flattering on all figures.  Luckily, at the moment, fashion isn't about how tight you can wear your clothes: jeans are roomier, the body-con dress is passé, and cozy sweaters have been a trend for a few seasons now.  If you are going for a casual look, the sneaker is the perfect option, but this dress can easily be dressed-up with a boot of any height.
Photo: Pinterest, Sneaker: Adidas Sneaker, Bag: Chloe Faye Bag , Stripe Dress: Theory Stripe Dress , Gray Dress: Sandro Sofy Jumper, Leather Leather Jacket – Madewell,  White Sneaker: Eyty's , Heeled Boot: Chloe Suede Ankle Boots, Dress: Raquel Allegra Jersey
My favorite daytime addition has been leather leggings or pants.  They have long been my nighttime staple, but they look perfect when paired  with the ubiquitous white sneaker.  And in these freezing temps, they are a winter blessing.  Leather leggings are such an easy item to transition to night – just add a heel and maybe an earring.  While they are an investment, you only need one (perfect) pair and you will wear them for years.  They will be well worth the money.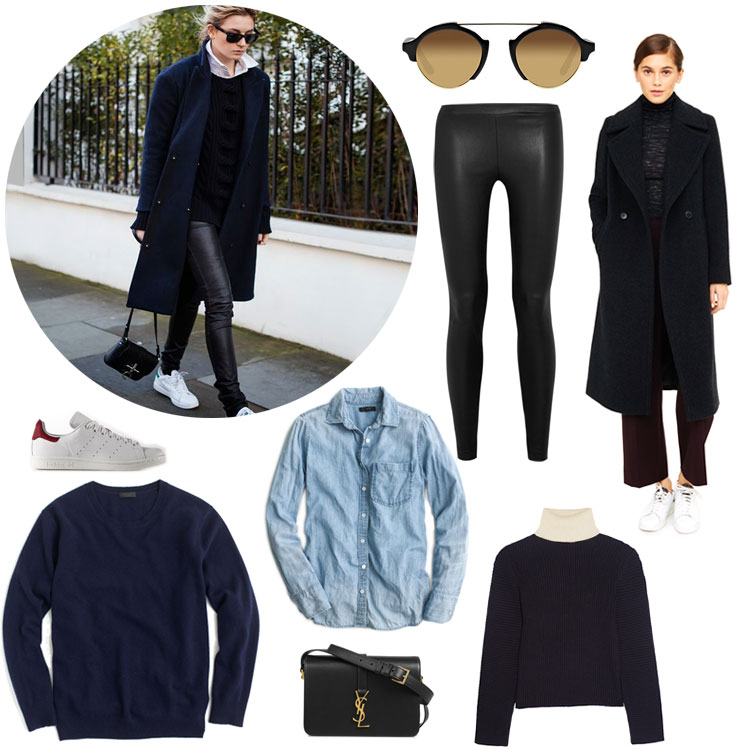 Photo: Pinterest, Sunglasses: Illesteva, Leather Pants: Vince, Coat: Club Monaco Daylina, Turtleneck: Acne, Button Down: J.Crew Chambray Shirt, Bag: Saint Laurent Sac Université, Crewneck: J.Crew Cashmere Sweater, Sneaker: Adidas Sneaker
Lastly, you don't have to pack away your skinnies yet.  Layered tops and a blazer plus a heeled stiletto sandal immediately update your look and make it work-appropriate.  If the sweatshirt doesn't work, sub in a perfect white tee or cashmere sweater.
Photo: Pinterest, Sunglasses: Illesteva, Denim: Acne Highrise Jeans, Sweatshirt: Madewell, Heel: Stuart Weitzman, Button Down: J.Crew Chambray Shirt, Blazer: Joseph Laurent Jacket, Sweatshirt: J.Crew
Feature Photos: Pinterest